PRODUCTS

UT-965i
Dual-Technology Presence Detector
---
Specification
UT-965i series products utilize the ultrasonic sensor working based on the " Doppler Effect " principle to detect people's movement. Unlike the PIR (passive infrared) movement detector, the performance of ultrasonic sensor is seldom affected by temperature & humidity. In addition, ultrasonic sensor is a volumetric sensor which is able to detect the occupant even there is an obstruction between them, and it is able to detect small motion (i.e. typing, writing) due to its high sensitivity.

Features
The detector head can be adjusted 30° vertically and 350° horizontally for user to adjust detection angle freely.
High performance relay is built-in for controlling all kinds of lamps.
Considerate air current compensation function is provided to reduce the false triggering due to interruption of airflow.
The IR remote control is available for quick and convenient setting (Note: The IR remote control is for optional purchase)
RJ-12 plug and socket is used for easy and quick connection of detector's head and its power box.
Spring clamp and hinged power box covers are designed for fast and convenient installation.
Applications: open plan office, multi-stall restroom, conference room, break / lunch room, storage room, etc.
Specification
Rated Voltage : 230V~±10% 50 / 60Hz
Load:

UT-965i:

Load Ⅰ for lighting

Incandescent Lamp : Max. 2000W
AC Halogen Lamp : Max. 1000W
LV Halogen Lamp : Max. 1000VA / 600W
Fluorescent Lamp : Max. 900VA / 100µF

25 x (1 x 18W); 12 x (2 x 18W)
15 x (1 x 36W); 7 x (2 x 36W)
10 x (1 x 58W); 5 x (2 x 58W)
Max. 1000VA / 600W(uncompensated)

LED Lamp : Max. 500VA / 400W
Energy Saving Lamp: Max. 600VA / 400W (include CFL and PL lamp)

LoadⅡ (D1-D2) for HVAC (Lux is invalid)

Max. 5A (cosφ=1) for 250VAC
Max. 5A for 30VDC
Max. 2A (cosφ=0.4) for 250VAC

UT-965Ai:

Incandescent Lamp : Max. 2000W
AC Halogen Lamp: Max. 1000W
LV Halogen Lamp: Max. 1000VA / 600W
Fluorescent Lamp:

Max. 900VA / 100µF
25 x (1 x 18W); 12 x (2 x 18W)
15 x (1 x 36W); 7 x (2 x 36W)
10 x (1 x 58W); 5 x (2 x 58W)
1000VA / 600 (uncompensated)

LED Lamp: Max. 500VA / 400W
Energy Saving Lamp: Max. 600VA / 400W (include CFL and PL lamp)

Detection Angle: 360°
Detection Range (H=2.5m): Adjustable from approx. 2m x 3m ( - ) to approx. 7m x 8m (+) , it's an oval shape.
Auto Off Time Adjustment:

Time1 (for lighting) -- adjustable from approx. 5sec to 30min & short impulse (1sec)
Time2 (for HVAC) -- adjustable from approx. 10sec to 60min

Lux Adjustment: Adjustable from approx. 10 Lux to 1000 Lux
Ultrasonic Sensor Frequency: 32KHz
Operating Temperature: 0°C to +45°C
Environmental Protection: Class II, IP20
Highlight
Dimension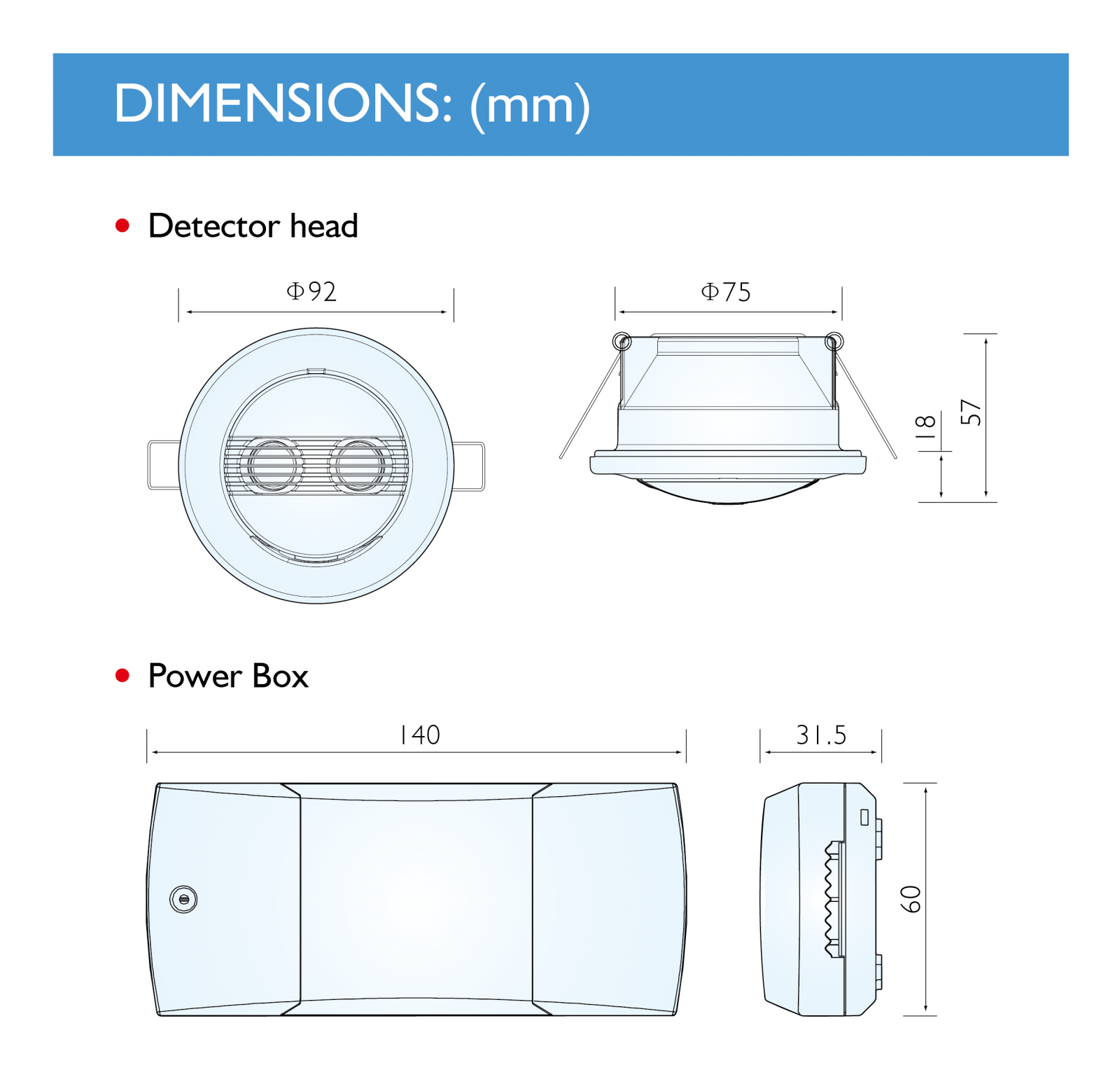 Detection